The Hornby Arts Digital Summit is a three-day virtual gathering over Zoom for arts and cultural organizations on Hornby and Denman, as well as those organizations that contribute to the culture of our islands. Through a series of presentations, workshops, and group discussions, the summit will focus on community building across our islands, in the Comox Valley and beyond.  
We invite all staff and board members to attend!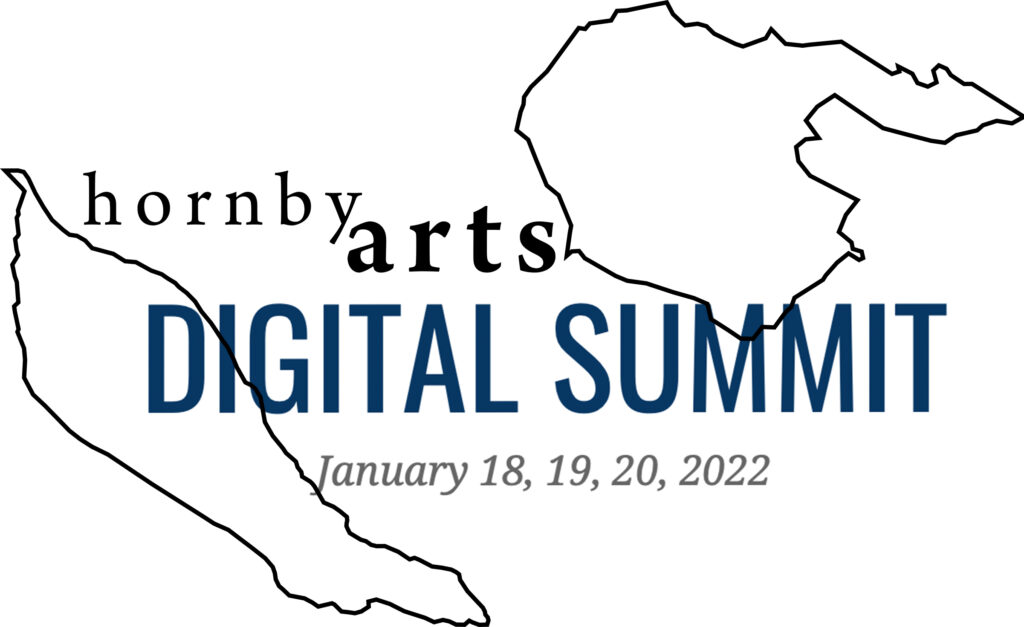 Day One will be an opportunity to introduce ourselves to one another, build collegiality, and develop a shared understanding of where we are at, what our needs are, and begin to see how we may be able to support each other. We will take a closer look at modes of communication between, across, and beyond our islands, the impact of digital transformation, as well as learning more about the impacts of tourism here on Denman and Hornby. We will have the opportunity to strategize together, learn from industry experts, peers, and other guest presenters to bring us towards a better understanding of Who We Are and Where We Are.   
Day Two will focus on Indigenous Relations. The goal of this day is to create a shared basis of understanding and develop a framework for moving forward collectively in our efforts towards reconciliation with Indigenous peoples. We will have the opportunity to learn from venerable speakers and participate in workshops that supply us with practical tools for engaging in this essential work.  
Day Three we will convene to discuss the value of working collaboratively, supporting each other, and discover continued ways of doing this that are inherent to our islands. We will have presentations from three different 'networks' that support their communities on a local, regional, and national scale, after which we will have the opportunity to discuss the potential for the establishment of a Hornby-Denman collaborative Network Of Our Own. 
This initiative is supported by the Canada Council for the Arts' Digital Strategy Fund.